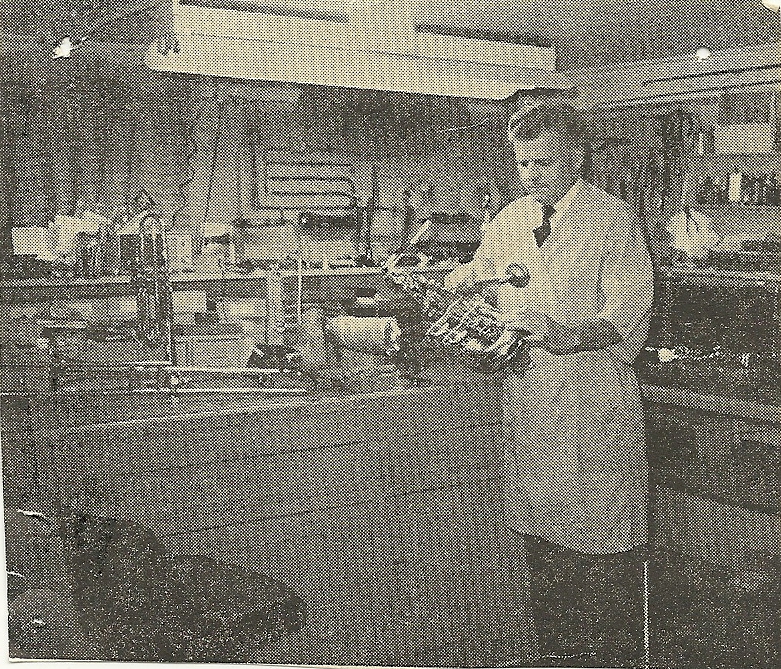 The founder of WT Music & Son is none other than Walter Tarnowski. From an early age, Walter had a love for music that was unmatched by nobody else. The first generation of his family to be born in the United States, Walter begged his school's music teachers to learn to play the violin. His school's teacher found him daydreaming as usual one day. She asked him what he was thinking about. He said he was thinking about playing the violin. She arranged for him to have lessons on one condition. That he stop daydreaming in class. Walter obliged. He was a quick study on violin and soon became good enough to play at local weddings as the "strolling violinist". His true love affair came along in the form of the saxophone and clarinet. Walter practiced constantly in order to get better at music. He would eventually drop out of high school to work on music full time. He was eventually drafted by the army. While in the army, Walter quickly moved up in rank and became a sergeant and played in the popular USO war bond rallies of the day.

Keep in mind, Walter was fascinated with everything about musical instruments right down to how they worked. After the war, he embarked on a professional music career. He would play by night, but he would work in music stores and with musical instrument repairmen by day. He worked in various places in New York. At one place, he simply volunteered to work just so he could learn musical instrument repair from the owner of the place. Walter would eventually become a instrument technician at Dorn & Kirschner on Springfield Ave. in Newark, NJ. There was tons of work and the owners were demanding. However, this is where Walter honed his craft. He would eventually work at a few other stores like Mascara before going into business for himself in 1957. He built a shop in his basement at his home in Rahway, the same shop that WT Music & Son still operates out of to this day. By now, Walter was a master of his craft. He made his own tools. To this day, his son and grandson still using the tools Walter made over the tools offered on the market today. Walter hit the ground running when he opened his business. An active professional musician himself, word quickly passed through the grapevine on the pro music circuit that a master instrument technician was doing business in Rahway. Walter's clientele was mostly professional. He had many players from Count Basie's band come in. Other contemporary professionals like James Moody, Sonny Stitt, Warren Vachey and Clarence Clemons(yes, of Bruce Springsteen's E Street Band) come to Rahway to have Walter repair their instrument.

Walter was known for remanufacturing keys and doing excellent overhauls. Walter was a pefectionist and was relentless at making sure he made a horn play perfect. He eventually recruited his son, Wayne, at the young age of 14 to help cork and pad instruments for his allowance. This was the precursor for the torch to be passed.
Wayne Tarnowski Years

Wayne was a musical genius from the start. If it plays music, give Wayne three weeks and he'll be playing at a professional level. His mother and father knew it and supported it throughout his childhood. Wayne excelled particularly on piano. He studied with the great jazz pianist, Morris Nanton. Wayne would eventually become good enough to become a professional piano player as a teenager. He played professionally throughout high school and college, most notably at a popular jazz club in Roselle Park called "The Cove". Wayne studied electrical engineering at NJIT.

Wayne always wanted to pursue a career in music. His electrical engineering degree would eventually land him a job as a recording engineer with a record company called CBS Records. It didn't take long for Wayne to make a name for himself. He quickly got work recording for such bands as the Weather Report and the band "Chicago". He would eventually record with other great artists like Ted Nugent, Tony Orlando and Billy Joel. However, Wayne and the band "Chicago" would take a liking to each other immensely as they recorded a lot of records together in the early 70s. Producer Jimmy Guercio wanted the band to record out at his ranch, Caribou Ranch, outside of Boulder, Colorado. Wayne was charged with the responsibility of converting a barn into a high tech studio. It was in Boulder, that Wayne and his wife Diana had their first and only child, Chris Tarnowski.

Wayne would eventually move back to the tri-state area in the late 70s and continued to work as a freelance engineer with great record producers like Phil Ramone. However, by the early 80s, he craved a different challenge. It was then that he decided to apprentice with his father and learn the business of musical instrument repair. Wayne would eventually take over the business in 1983. Like a true engineer, Wayne quickly became known for doing great repairs and finding creative ways to repair instruments. His love of music and his mind for engineering lended well to this profession. Wayne would maintain some of the same professional musicians that Walter had worked with. However, he added even more local greats like the Asbury Jukes, professor of Jazz Studies at Rutgers University, Ralph Bowen, Scott Grimaldi, Rick Brunermer, Tommy Labella, Michael Ghegan, Artie Bressler, Scott Solomon, Dan Perez and others. Word quickly got out that the Tarnowski family business lived on in the work of Wayne Tarnowski. Professional musicians and school directors respected Wayne for his musical knowledge and high quality repairs. Eventually, school students and teachers of the area urged Wayne to consider going into the rental and sales aspect of the musical instrument business. Wayne responded by creating WT Music in 2003. This business would serve as a platform to pass the torch on to the next in line in the Tarnowski family, Chris Tarnowski.
Passing the Torch to the 3rd Generation

By now, you probably see a trend about the Tarnowski. Relentless work ethic and love for music. Chris was no different. From the age of 3, he was fascinated by watching his grandfather Walter repair instruments and play the baritone sax. He would watch in awe when his dad played piano. Chris played the saxophone through high school. Chris used his family's Eastern European work ethic at anything he put his mind to whether it be music, baseball or school. After graduating from Moravian College with a degree in Accounting, Chris succeeded in various areas of accounting, but most notably in Quality Assurance and Data Management in the Human Resource Benefits Outsourcing industry. It's here that Chris learned how to assess a problem, implement a solution and test the solution thoroughly until the issue was resolved. While this was all interesting to Chris and he was successful at it, something nagged at him. He was always fascinated by the creative minds of music and the repair work his father and grandfather did. He loved the idea of being around the arts and supporting it. In his mid to late 20s, Chris decided he wanted to take a shot and get back to his musical family roots.

Chris was relentless at learning about all musical instruments and constantly downloaded information from the brains of his father and grandfather. You can say he dove in head first into the deep end of the pool. Using the techniques he learned from being a quality assurance analyst, Chris became good at detecting the root issue of a problem. He then combined his family's repair techniques to resolve the solution and is now coming into his own as a repairman. Many musicians call him the "shop rat" because he is almost always in the shop working on an instrument.

Chris' father Wayne and the owner of WT Music could see that his son was learning fast and had a passion for the business and decided to turn the business over to him in 2011, and the next chapter in WT music history began.